Or just a sow's ear. I'm not sure.
It serves me right for trying to cheat. I thought it'd be quicker to buy a pattern than make my own. New Look 6866 looked easy, fluid and flattering on the packet....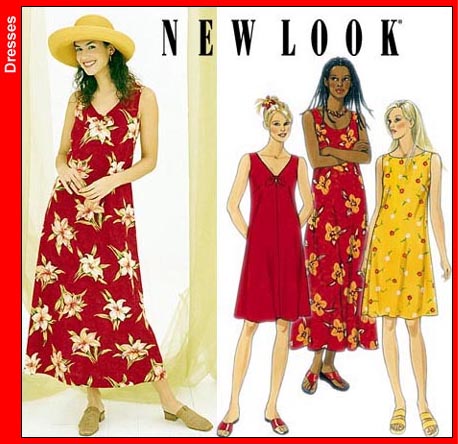 ...and like a potato sack when it was made up.
I made the size small (Australian sizes 8-10, which is
right where I'm at
) but it fitted like a shapeless size 12.

It was so unflattering I didn't take any "before" photos -

j

ust the results of about three rounds of tweaking.
The neckline was dropped an inch or so at centre-front and a great big chunk was taken out of the back... too much in fact. (There's now a dodgey tight bit on the bottom of the V where I clipped it before I checked it, and then couldn't let it out again).

I then had to re-shape the armholes so I could

move

in it after I made it too tight and I had to put a bit of shape into the waist so it... ummm... had a bit of shape in the waist.
M
y sow's ear is quite a comfy summer frock now. Not perfect, but I'll wear it -
wonky seams,
dodgey pattern placement (wish I'd thought of that one, too..) and all.

If you're bigger than I am (that'd be MOST of you!) this pattern may be for you. I'd say the size small would fit a tall or fuller-figured size 10-12.

If you're five foot one-and-a-half and a slightly curvy size 8-10, I'd suggest that you mock up a calico toile and tweak it before hacking into your favourite fabric. Or if you have, say,

PATTERNMAKING SKILLS (!!?)...

.. perhaps

don't be so lazy

. Start from scratch to make something designed for your figure.

The fabric is from the Loft 1800 range by Moda -

one of my all-time favourites

.
PS. This time I enlisted my assistant to take the photo of the back view. It has been cropped to (mostly) remove the great shot of the wheelie bins (originally with me on the side of the photo).